Every now and then, I get to design a pattern to accompany my Maths & Methods column in Make Modern. Issue 18 is now out, my column is all about make four flying geese at a time, aka no-waste flying geese. It's such a quick method to make lots of flying geese that it meant I whipped up this baby quilt in no time at all.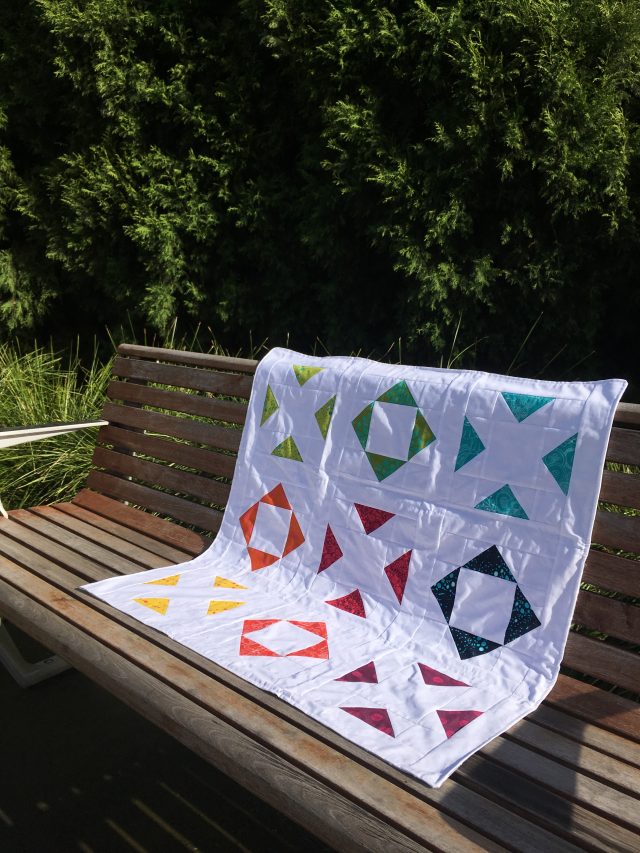 Finishing at just 32″ x 32″, I designed it with the use of being a lightweight pram/stroller quilt. It's also fat sixteenth friendly, which means I'm thinking I need to make a Liberty version now with the fat sixteenth bundles I get each month… This Mother Goose quilt was made with a rainbow of Alison Glass fabrics, and the contrast between the prints and the white background fabric really emphasises the X and O shapes created by the different blocks.
I had a funny little photo shoot for this quilt – no joke, this magpie wandered over to where I was, looked at the quilt, looked at me, and then walked away. All casual, no fear, quite curious!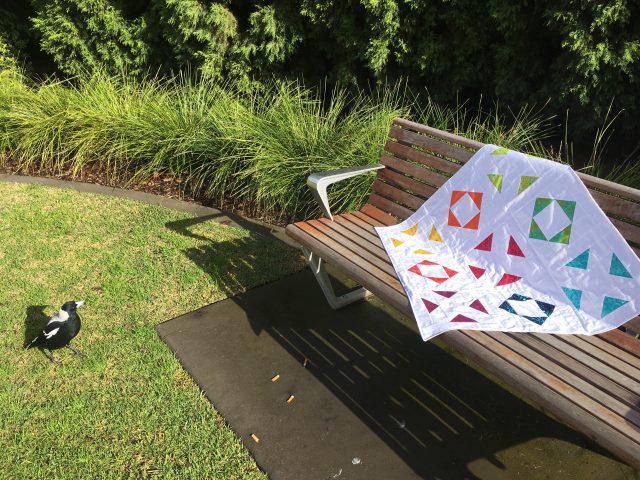 Make Modern are really going all out for their birthday! Issue 18 is one bumper of a birthday issue, with a whopping 120+ pages and 14 fabulous patterns! Plus the usual columns from myself, Molli Sparkles, and Angie Wilson. Use code MM18for6 to get yours for just AU$6 (that's under US$5) for the next 48 hours only.
Or you might like to subscribe! If you're one of the first 100 new subscribers this month, you'll receive an awesome enamel pin for free, no matter where you live! I have all four of these, and they're very cool indeed. The sewing machine is my fave!
Plus check out @shoppershaz_swaphost on Instagram for a fun cushion swap – you can grab the Comfy Cushion special issue full of cushion patterns for just $5 to inspire you. I told you Make Modern were going all out for their birthday!