What If Jack Welch Chose the Wrong Protégé for GE?
By
Honeywell's earnings and shares soared as GE struggled

Cote received $436 million for his work, Immelt $203 million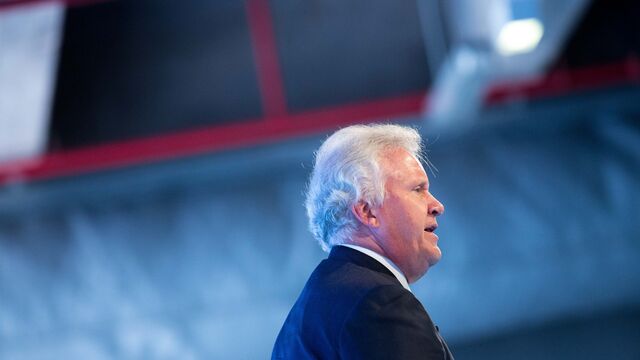 In 2000, Jack Welch, General Electric Co.'s legendary chief executive officer, chose Jeffrey Immelt to succeed him, passing over, among others, Dave Cote, another star at GE. Cote landed the top job at Honeywell International Inc., where he spent the next 15 years. Now, as both Immelt and Cote prepare to step down, it's clear that one soared and the other floundered in running two of America's biggest and most complex corporations.
Under Immelt, GE's shares declined and profit margins shrank. His bet on the oil industry, with proceeds from the sale of its NBCUniversal business, is dragging on earnings. Immelt's successor, John Flannery, faces difficult choices when he becomes CEO on Aug. 1, said Todd Lowenstein, a fund manager with Highmark Capital Management Inc., which owns both stocks.

"Not only is this a tough ship to turn around, I think investors are anticipating sort of a reset on growth expectations in the near and medium term," Lowenstein said.
GE leadership is making no apologies for Immelt's legacy. The company said it nearly doubled profit from industrial businesses and paid out $143 billion in dividends during his tenure.
"We're very pleased with our transition here and the positioning of the company as John Flannery takes over," said lead independent director Jack Brennan. "Jeff has a legacy here that I think is remarkable in the breadth and quality of the portfolio transformation. This company is now a wholly digital-industrial company."
Read extended comments by Jack Brennan

Meanwhile Honeywell's annual earnings growth has averaged about 10 percent in the past decade, and its shares have more than doubled. Cote, who will step down as chairman in April, has orchestrated a textbook smooth transition to Darius Adamczyk, the company's CEO since March.
How Cote played the energy market goes a long way toward explaining his success. Whereas GE invested heavily in oil exploration at the peak of the energy cycle, Cote moved Honeywell into high-tech equipment and services for refineries and petrochemical plants, a market that has been growing in tandem with steadily increasing consumer demand.
Read extended comments by Dave Cote
"To go from there to where we are today, to have taken it from, say, $20 billion in market cap to over $100 billion and to beat the S&P 500 by two and a half times, I have to say it feels pretty gratifying overall," Cote said.

Immelt and Cote both had rocky moments. When Cote arrived at Honeywell, it was still reeling from the culture clash that followed AlliedSignal Corp.'s acquisition of the company in 1999. GE's subsequent failed takeover attempt of Honeywell also resulted in executive defections. Immelt had to steer GE through the 2008 financial crisis, which almost pushed the industrial icon into insolvency. Still, the executives' track records, even down to pension funding, are starkly different.

Early in Immelt's tenure, GE had a well-funded pension. But since the financial crisis, the funding level has steeply declined. Honeywell has largely closed its funding gap, based on its strong financial performance.

Cote was well paid for his performance, with compensation totaling $436 million through the end of 2016, according to data compiled by Bloomberg from filings. Although GE is more than twice the size of Honeywell, Immelt took home $203 million.
"Cote almost has a cult-like following because he had a big personality and he delivered," said Deane Dray, an analyst with RBC Capital Markets. "People who bet with him did well."
— With assistance by Rick Clough, and Jenn Zhao
Before it's here, it's on the Bloomberg Terminal.
LEARN MORE
Have a confidential news tip?
Get in touch with our reporters.